A Milan cosmetics brand GLOSSIP with popularity overseas debuts at Haydon aiming at higher potential race
Recently, GLOSSIP (In Chinese, it is called歌洛施), a popular luxury cosmetics brand in Italy, debuts at Guangzhou (Canton)experience store of Haydon. As the first stop in Chinese market, GLOSSIP has lured many beauty bloggers to clock in and also has attracted keen attention of on-site consumers.

Fig:GLOSSIP debuts at Haydon
At the Haydon experience store at Beijing Road, Guangzhou(Canton) city,Guangdong(Kwangtung) province, GLOSSIP arranges a special makeup customization experience center and a "T-stage show dressing room", with professional makeup artists together with beauty bloggers and models carrying out activities including product experience and makeup customization, having attracted a large number of customers. On the opening day, the chief makeup artist from GLOSSIP helps @Jelly blogger, a million fans winner to experience customized graceful T-stage makeup.
At the same time, the chief makeup artist demonstrates professional skills for T-stage makeup in front of the fans and recommends hot selling items.

Fig: Chief makeup artist from GLOSSIP helps @Jelly beauty blogger, a million fans winner to experience customized graceful T-stage makeup.
GLOSSIP was founded in 2012 in Milan, the fashion capital of the world. With the fashion core of T-stage added to its makeup products, GLOSSIP once sparked a GLOSSIP MILANO DA BACIARE vogue at Instagram, a famous social platform overseas, with its unique brand charm and cutting-edge products, enjoying wide popularity among makeup artists and fashion bloggers.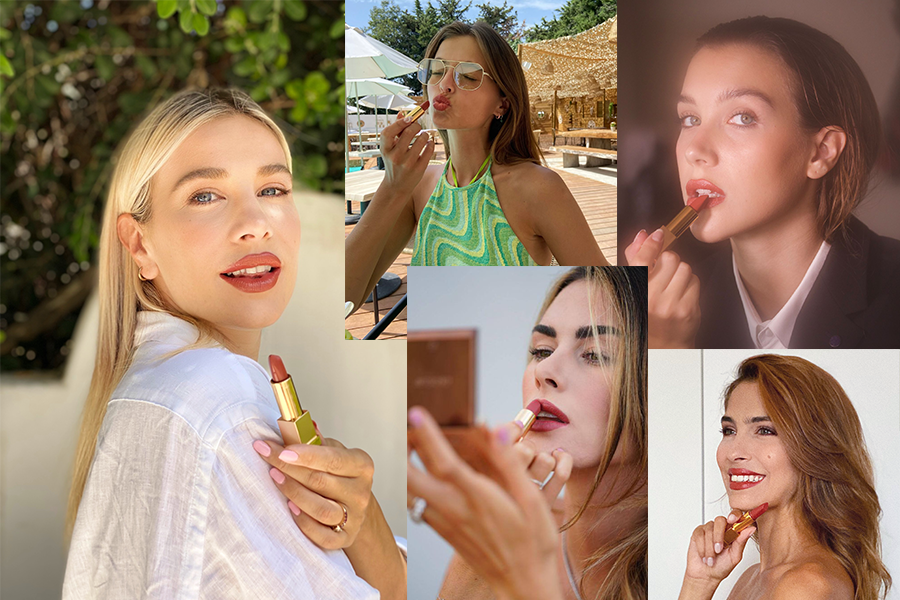 Fig: Makeup and fashion bloggers from Ins become chief GLOSSIP T-stage experience officers
Since the establishment of the brand, its "T-stage" product concept and "Haute Couture " product positioning has conquered many Haute Couture designers, and also attracted the Haute Couture clothing brands, enabling GLOSSIP to become the sponsor of Milan Fashion Week in 2016 and 2017 as the designated makeup of Mario Dice and Ettore Bilotta respectively.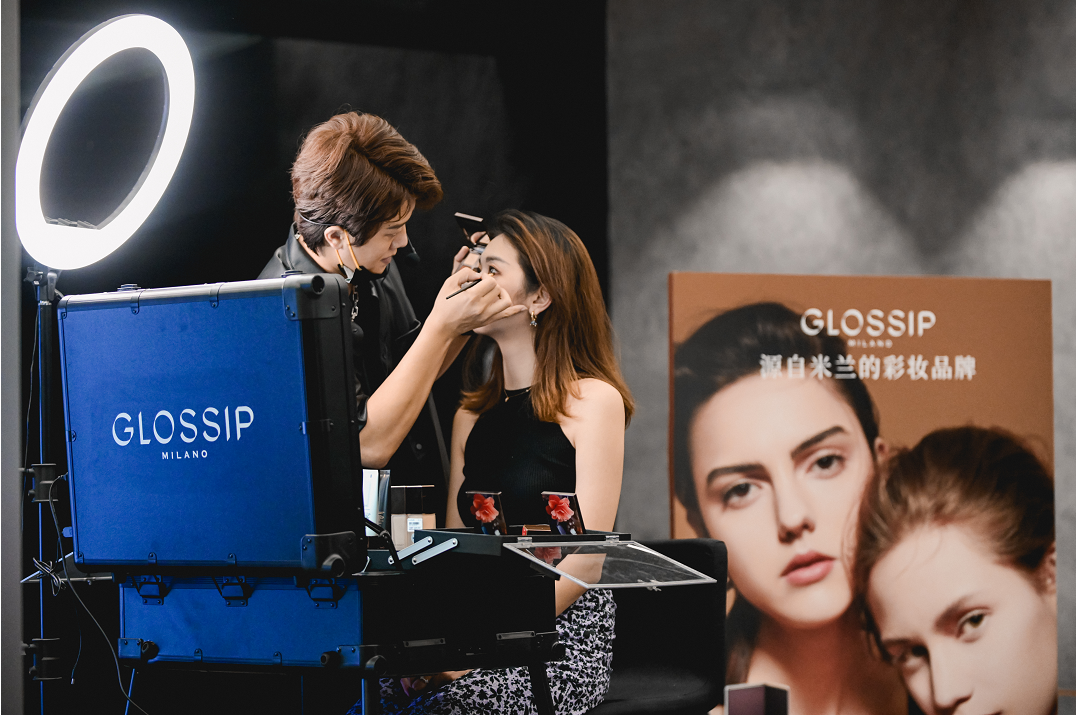 Fig: GLOSSIP at Haydon and its T-stage makeup room
As a popular cosmetics brand in Milan, GLOSSIP has made breakthroughs and innovations in the field of cosmetics with its delicate, bold and uncompromising brand personality, aiming to provide customers with higher quality products and services. Through acquisition made by China's leading cosmetics brand Carslan group, it has set up a local brand management company called Gruppo GLOSSIP and a Milan lab in Italy. With over four years' incubation and improvement based on Chinese women's needs and features, GLOSSIP has strived to meet the advanced needs of Chinese young consumers for makeup. Today, GLOSSIP has created a brand-new light luxury makeup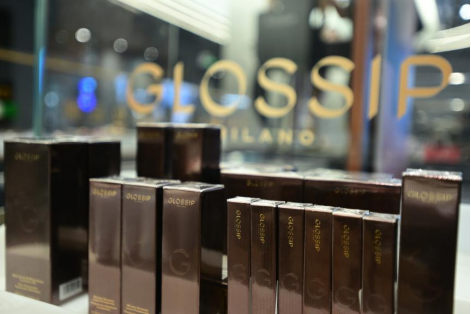 Fig:GLOSSIP displays at Haydon
Starting a new journey, GLOSSIP has made great efforts in the selection of products and terminal experience by tapping its know-how in the characteristics of local channel segments. GLOSSIP has a wide range of product lines, covering lip, face, eye makeup, facial care, perfume etc..The number of its whole range products SKU has exceeded 130, which can meet the selection needs of various channels. With the support of a huge product library and focus on market segments, GLOSSIP is capable to select product categories according to channel customers and channel characteristics, and sell them separately for different channels.
For example, in the lipstick selection, for Haydon that has high-end positioning, GLOSSIP selects T-stage lipstick with Haute Couture characteristics to meet the needs of higher-end consumer groups. At the same time, the Lip Glaze category(Haute Couture lip gloss) that is more popular among young people nowadays is also selected, bringing the fashion and romance from Milan to the most confident and powerful young consumers in China, aiming to help them experience the light luxury professional makeup from Milan with delicate makeup that hey can experience like a leading role at T-stage show.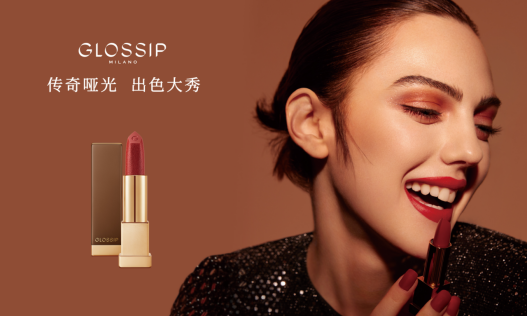 Fig:GLOSSIP Fiery Love Deluxe Matte Lipstick(T-stage lipstick)
It is reported that the whole line of the brand products introduced to market this time are professionally developed by Milan laboratory, and jointly produced by Chinese and Italian factories. In addition, a further cooperation has been made with the top three OEMs in Italy. In raw materials for products, aiming to bring a better experience in makeup effect, GLOSSIP takes results and application as its guideline, especially with rare materials including precious sapphire powder, mixed gem powder, white truffle etc.,added to products, plus combination and development of cutting-edge technologies such as biopolymers, aiming to bring international show level high-quality makeup products to Chinese consumers. Recently, GLOSSIP has made cooperation with Michele Burke, the Oscar winner for best makeup. Michele Burke has become GLOSSIP's a color master, and she is committed to creating exquisite makeup with more potentials for GLOSSIP.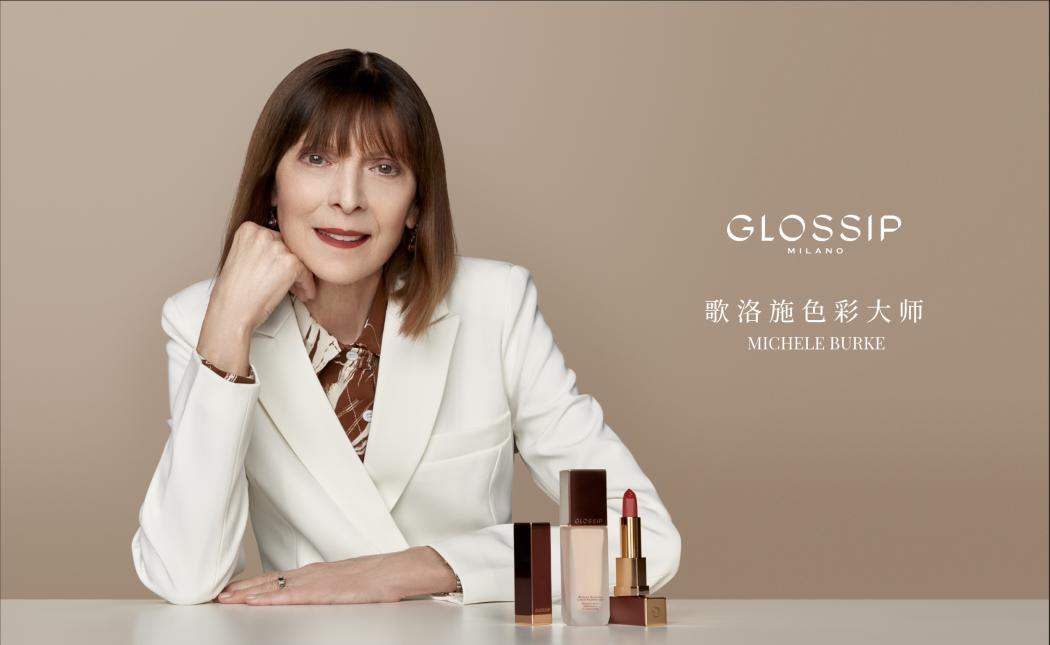 Fig:Colour Master Michele Burke
GLOSSIP rigorously takes "international makeup industry standards + domestic makeup industry standards" for its quality control. Taking GLOSSIP brand Glowing Liquid Foundation as an example, it is qualified through human efficacy evaluation by CTI. Approximately 1000 Chinese women participated in the human efficacy test. The official output data report made by the authorized experts comes to prove that its brightening effect lasts for 12 hours and it even keeps its moisturizing effect for 24 hours.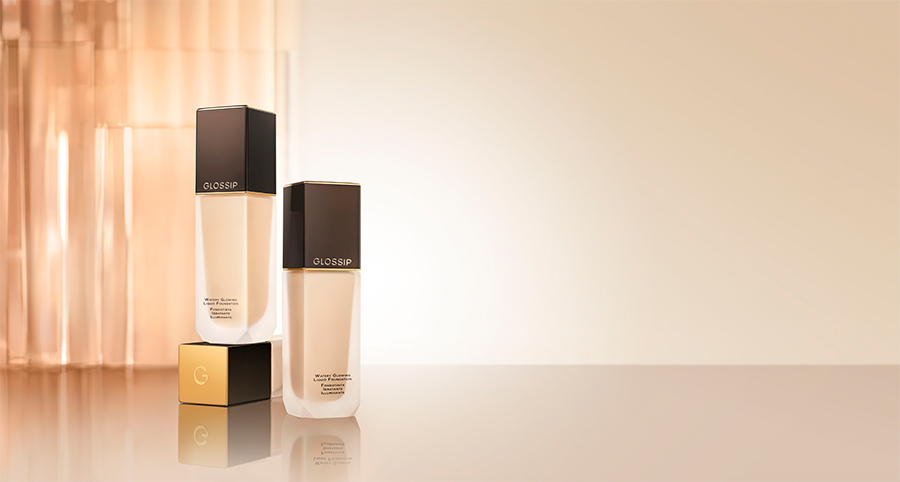 With total link control for its product quality, it enables GLOSSIP to incubate popular products successfully and come to gain popularity overseas. In today's domestic cosmetics market that features flowers of every kind being in bloom and a promising industry prospect, Haute Couture quality products have become a personalized demand among the younger generation consumers. It is believed that GLOSSIP, full of enthusiasm from Milan, will highlight its extraordinary brand charm with Haute Couture cosmetics products of exquisite and elegant gene brought to China's cosmetics market,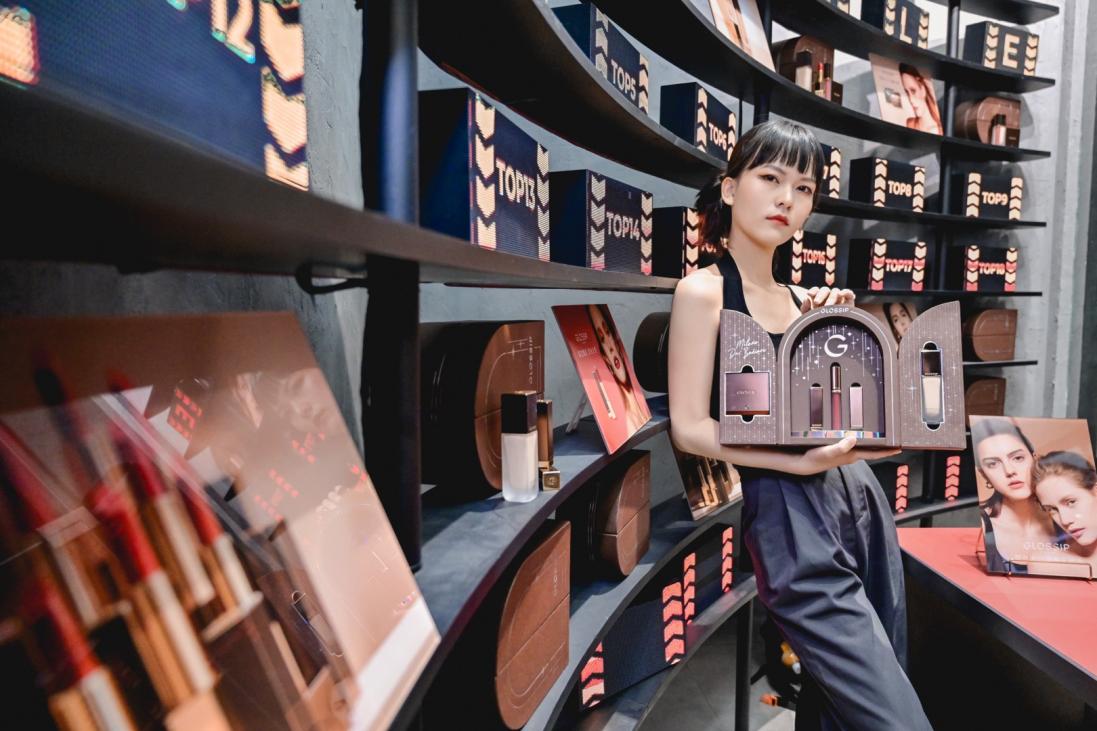 Fig: A makeup blogger clocksin at GLOSSIP store
Haydon, as an offline beauty retail giant, features younger consumers with higher aesthetic cognition. GLOSSIP comes to join Haydon this time with high-quality makeup and a brand new experience is brought to them. In recent years, Haydon has continuously tapped retail market boundary by bringing differentiated shopping experiences to consumers. GLOSSIP, taking "T-stage show" as its unique positioning strategy and "choice making" as its quality policy, strives to present unique T-stage show makeup to Chinese consumers, The two parties share the same business philosophy by coincidence. It is believed that it is a reason that Haydon sets a precedent for the first time for GLOSSIP to set up a special makeup customization experience area at the store.
Starting the channel of fashionable collection store is the first step for GLOSSIP to proactively design a blueprint in Chinese market. It is reported that in addition to Haydon's main stores in Guangzhou(Canton), GLOSSIP has started to sell its products at Haydon stores in nine cities including Wuhan, Xi'an, Chengdu, Nanjing, Henan, Harbin, Hohhot, Yinchuan, Ningxia, and at the same time, GLOSSIP has also joined the vogue product channel of WOW COLOUR in Shenzhen. GLOSSIP, boasting about its Haute Couture cosmetics developed with its professional cutting edge for T-stage level, is committed to creating T-stage standard makeup for Chinese women, aiming to satisfy the needs of the younger generation consumers for higher vogue makeup.
Disclaimer: This article is reproduced from other media. The purpose of reprinting is to convey more information. It does not mean that this website agrees with its views and is responsible for its authenticity, and does not bear any legal responsibility. All resources on this site are collected on the Internet. The purpose of sharing is for everyone's learning and reference only. If there is copyright or intellectual property infringement, please leave us a message.